---
Ikuta no Kita
2021 / 64m -
- Animation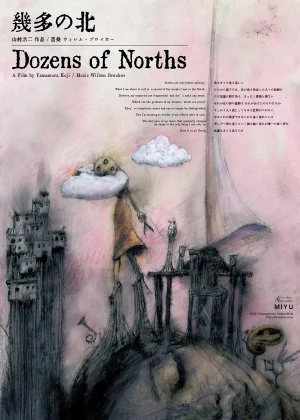 Yamamura is best known for directing shorts, this is his first longer film. It's probably easiest to describe it as an arthouse version of Cat Soup, a surreal road movie that is more a succession of random scenes than it is a logical narrative. It's not going to be everyone's cup of tea, but I definitely appreciated the artistry and creativity on display here.
Read all

There's not much in the way of an actual plot here. The "dozens of norths" referred to by the title are different places the two main characters visits, each wildly different from the next (there's a bit of Kino no Tabi in here too I guess). Accompanied by some poetic textual descriptions, each place has its own story to tell.

The animation style feels more European than Japanese, but the drawings are intricate and imaginative. I was less impressed with the score, which is very classical in nature, and was distracting more than once. Still, Yamamura serves an intriguing, surreal journey that was well worth undertaking, I like this format better than his shorts.
---
by
Isao Takahata
,
Mark Baker
,
Jacques Drouin
,
Taku Furukawa
,
Co Hoederman
,
Kihachiro Kawamoto
,
Yôichi Kotabe
,
Yuri Norstein
,
Bretislav Pojar
,
Raoul Servais
,
Shinichi Suzuki
,
Koji Yamamura
,
Fumio Oi
,
Tatsutoshi Nomura
,
Haru Fukushima
,
Tatsuya Ishida
,
Noriko Morita
,
Tatsuo Shimamura
,
Reiko Okuyama
,
Aleksandr Petrov
,
Maya Yonesho
,
Yoji Kuri
,
Uruma Delvi
,
Seiichi Hayashi
,
Azuru Isshiki
,
Katsushi Boda
,
Masahiro Katayama
,
Yuichi Ito
,
Keita Kurosaka
,
Reiko Yokosuka
,
Yuko Asano
,
IKIF
,
Bairong Wang
,
Nori Hikone
,
Masaaki Mori
,
Fusako Yusaki
Fuyu no Hi
2003 / 39m - Japan
Fantasy - Anthology, Animation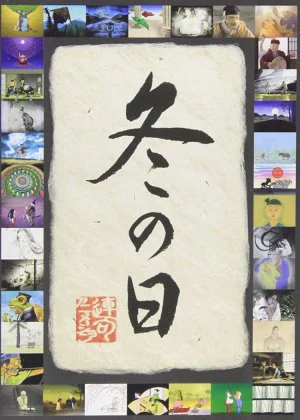 A very peculiar anthology. It's not like many other anthologies, where the link between each short film is frail and negligible, and yet many of the shorts couldn't have been more different from each other. A wealth of directors were given a chance to add their entry, with quite a few international names on the roster too.
Read all

The film is set up around the renku poetry of Basho. There's a little documentary that comes with the film that gives some insights into the how, why and what of this film, but basically each director was assigned a short poem, which then served as inspiration of the animation piece. Most of them are under 1 minute.

There's a huge range of styles on display and the overarching concept is pretty interesting, but too many shorts fell flat, and the impressive ones are few and far between. Someone like Isao Takahata stands out among the rest, but with only one minute on the clock, he too struggles to impress. Certainly worth a watch, but there's some untapped potential here.