Nuigulumar Z
2013 / 100m - Japan
Action, Comedy, Fantasy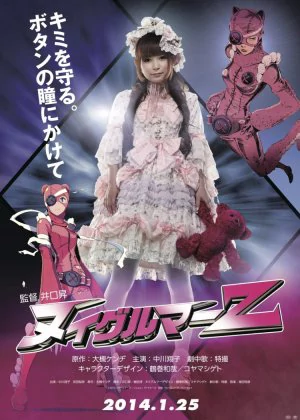 Noboru Iguchi is no doubt one of the most notable Japanese camp directors of the past two decades. He's not a great or accomplished director, but he finds the craziest stuff and turns it into pure entertainment, even when the budget isn't there. Need proof? Watch Gothic Lolita Battle Bear.
A young lolita girl and a pink teddy bear are able to fuse into Nuigulumar Z, a veritable superhero. When the Earth is under attack, they are the only ones who can save humanity. An extraterrestrial is coming to our planet hoping to turn everyone into zombies, Nuigulumar Z is our last hope of stopping him.
The plot is bonkers, the effects are makeshift, the styling is hyper cute. It's completely nonsensical, but if you like the Sushi Typhoon style then you're pretty much set with this film. It's not as over-the-top or out there as some others in the genre, but that's a pretty high bar to begin with. Fun stuff, but don't expect quality film making.