Bao Biao
1969 / 101m - Hong Kong
Action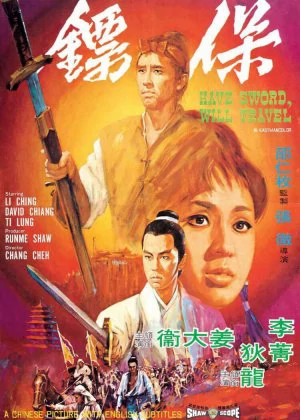 60s Cheh Chang. There is a notable difference with the 70s Shaw Bros films. The early ones are more often shot on location, can be a bit grittier and feel a bit livelier. The downside is that the action scenes weren't quite as good, which somewhat negates the positives. Have Sword, Will Travel is a very solid entry in Chang's oeuvre though, sure to please fans of his work.
The plot is simple, but that's hardly a surprise. Once a year Feng travels to the big city with a shipment of silver. Due to his declining health he hires two bodyguards, but they don't get along too well, even after Feng saves one of them. When they are attacked by the Flying Tiger gang, they have no choice but to work together.
This is one of those films where nothing in particular stands out, but everything just feels solid and accomplished. The action is decent, the location adds a bit of flair and the pacing is perfect. The film never drags (except maybe during what is no doubt one of the longest death scenes ever) and the finale is done and dusted before you know it. Good genre fun.