Fu Gui Bi Ren
1987 / 100m - Hong Kong
Comedy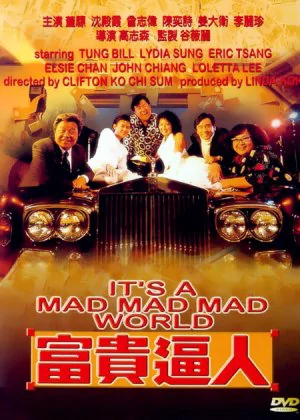 A typical Clifton Ko comedy. I'm not a great fan of Ko 80s work, which isn't necessarily all that funny, just very loud and very chaotic. It's a Mad, Mad, Mad World is a textbook example. Immense overacting, a nonsensical plot and sketchy comedy really test the nerves, luckily there are also a few laughs.
Bill is a mediocre news reporter who does his very best to support his family. He loves to be the sole provider, but things change when his wife wins the lottery. All of a sudden, she holds all the power. When word gets out that the family is rich, others are looking for ways to capitalize on their luck.
Some of the more random, sketch-like scenes can be pretty fun and I do appreciate the rowdy and chaotic mess in short bursts, but 100 minutes of straight-up noise is just a bit too much. The performances are well over-the-top and there aren't too many explicit jokes, which makes this a pretty mediocre comedy.