Bian Cheng San Xia
1966 / 103m - Hong Kong
Action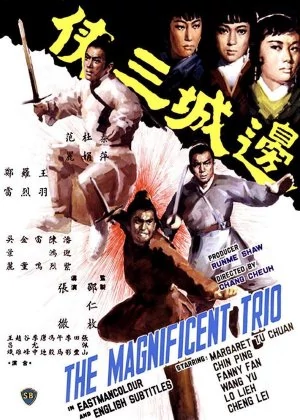 Not quite Chang's first film, but this is the oldest one that is easily accessible to his fans. It's not hard to see why, as The Magnificent Trio is a perfect blueprint for the following 20 years of Shaw Bros martial arts cinema and thus a film with some historic significance. But it's also just a pretty decent film regardless.
Like other early Chang films, the direction is surprisingly solid. It's probably a mix of the inability to quickly skip through yet to be established genre clichés and the lack of pressure to deliver multiple films per year, but these older films often feel more finished and detailed than the 70s and early 80s ones.
That sounds great, but it also means the pacing is a bit slower and the martial arts scenes aren't that elaborate yet, which is kind of the reason why I like the Shaw Bros martial arts catalogue. It's the classic contradiction between good cinema and good genre cinema. That said, Chang films will still find plenty to like here.