2019 / 120m - Italy
Fantasy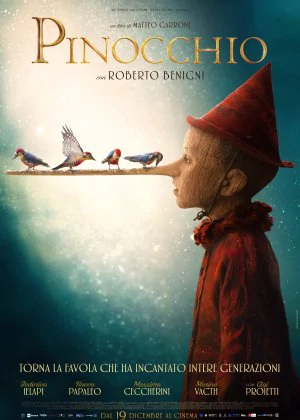 Garrone has a way with fantasy and it shows in this latest adaptation of Pinocchio. This is far removed from the Disney adaptation and it's all the better for it. Garrone remains much closer to the original story, which means the film does get quite dark at times (like most original fairy tales), but I don't think most kids will have a problem with it.
The production design is very nice, reminiscent of 80s/90s fantasy, blending costumes and CG to create a weird and mysterious world that looks a bit like our own, but at the same this isn't anything like it. What the film sometimes lacks in technical prowess is made up for in creativity and practical effects.
Benigni returns as Pinocchio's father, a risky move after his own version flopped tremendously in 2002, but with a better director at the helm he fits in perfectly. The rest of the cast is nice too (but please watch this in Italian), the soundtrack is fine and while a little long and fragmented, the film never ceased to amaze. A very pleasant surprise.