Wu Hu Jiang
1974 / 91m - Hong Kong
Action, Adventure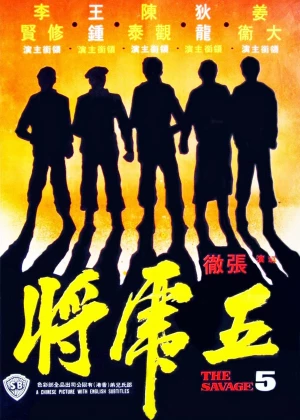 It's a little hard to believe it took me more than 80 films into Cheh Chang's oeuvre to arrive at this film. It's a quintessential Shaw Bros martial arts production, featuring familiar faces, a pretty common setup, and plenty of action scenes to make sure the 90-minute runtime passes quickly and effortlessly. It doesn't get more genre than this.
A gang of robbers plans a successful heist and gets away with the safe. They find shelter in a nearby village, where they terrorize the villagers and force a locksmith to help them get the safe open. Luckily, there's a group of noble heroes who is willing to stand up against the bandits, but it'll come to a battle to the end before the dispute is settled.
People who've seen a handful of Shaw Bros films should know what to expect. There's really nothing exceptional about The Savage Five, which is both good and bad. It's fun martial arts filler that won't disappoint fans of the studio, but it's not exactly memorable nor essential in any way. And if you have no idea about the whole Shaw Bros niche, there are better films to start with.