2018 / 86m - Australia
Horror, Crime, Comedy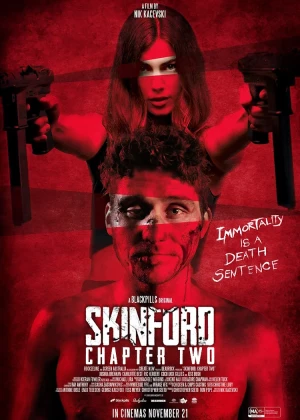 A very solid sequel. It's not just a bigger and bolder redo of the original, instead, Kacevski uses this film to expand and grow the Skinford universe. The madness of the original is still present, most of the characters make a (welcome) return, and the lore remains fresh and original. This is how you do a sequel.
Together with Jimmy, Zophia tries to find out how to break her curse. That's easier said than done when the two biggest crime syndicates are doing their best to discover her location. There are still some people left who are willing to help them. All the clues lead to Helen's mansion, the former boss of Zophia.
The characters are wacky and larger-than-life, the cinematography is polished, the plot takes some interesting twists and turns and the mix of comedy, action, and horror is exhilarating. It's a series that is very close to being a personal favorite of mine, all it needs are a few more stand-out moments. Bring on the third one!