Seu-top
2015 / 85m - Japan
Drama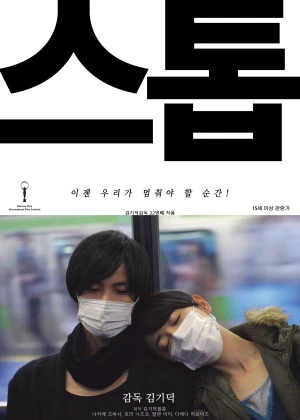 Ki-duk's peculiar excursion to Japan, and one of his most elusive films. I'm not really sure what prompted him to make this particular film, but it felt more like a fleeting experiment than a feature belonging to his core oeuvre. There are a few too many ideas and narrative twists here, which hurts the overall coherence.
A young couple lives close to Fukushima when disaster strikes. They're quickly evacuated, but soon after the government contacts them as their baby is almost certain to be affected by the radiation. Abortion seems to be the only viable solution, but Miki's husband wants to keep the baby.
What looks like an abortion drama (Ki-duk style) morphs into a film about radicalization after a few halfway twists. And the ending ... well, I won't spoil anything, but it's certainly one of the strangest things I've seen in any Ki-duk. There are some solid ideas here, it's just a little too scatterbrained, other than that the styling and performances felt a tad cheap. Stop is far from his best work, but it's still pretty unique.