1969 / 85m - USA
Comedy, Crime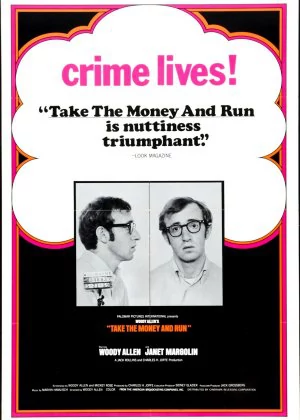 Allen's second film is a full-on comedy, stacked with absurd and cheesy gags. It's probably a bit of a surprise for those only familiar with his later films, but his earlier work was a lot more straight-forward in that sense. No endless monologues or artsy references, just laugh after laugh.
Virgil is quite the criminal, he's just not very good at what he does. From a young age, things have been going wrong for him. He finally tries to rob a bank, but that lands him in prison. His girlfriend is willing to wait for him, but when he gets out their lives don't get any better. And so his tragic life continues.
The pseudo-documentary style is perfect, Allen fits the lead like a glove, most of the jokes hit and there's practically no downtime at all. Add the frantic pacing and a short runtime, and you have a fun and entertaining comedy. Most importantly, it never tries to add drama, which is the biggest win of all. Good stuff.