Guangdong Shi Hu Xing Yi Wu Xi
1980 / 91m - Hong Kong
Action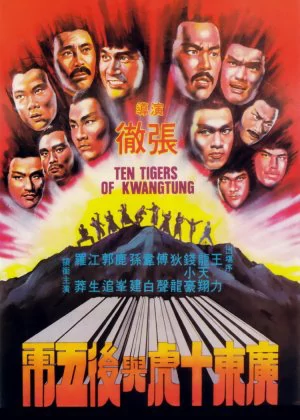 One of the later Cheh Chang films. It shows that he was fully settled into the martial arts genre by then, probably a bit too much. Ten Tigers of Kwangtung is a decent Shaw Brow production, but also one that feels quite haphazard and repetitive, more like a best-of than an actual individual film.
When the Kwangtung Tigers kill one of Tung's family members, Tung gathers all his nephews and vows to take revenge. The Tigers are a fearsome bunch though and the only way to get to them is to separate them, which is easier said than done. To help them out, Tung calls in the help of 5 Shaolin masters.
Expect a slew of familiar Shaw Bros actors doing their usual thing. There's a lot of kicking, punching, hurling weapons at each other and some brutal murders. What there isn't much of is coherence or creativity. I'd probably like this film better if I'd seen it a bit earlier in my exploration of Chang's oeuvre, but as a 60th+ plus film it's just a bit too expected.