You Xia Er
1970 / 103m - Hong Kong
Action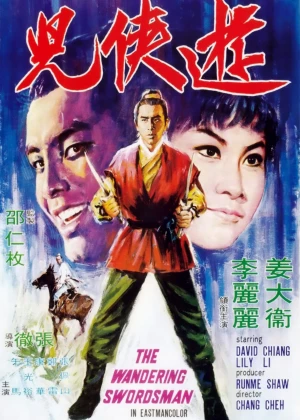 A relatively early Cheh Chang. Not sure how I missed this one before, or why this film isn't more famous, but The Wandering Swordsman deserves a bigger audience. The Robin Hood hook should make it easy to sell in the West, and the quality is definitely there. It's a film Shaw Bros fans are sure to appreciate.
Da Wei is a local Robin Hood. He's a thief who steals from other robbers to give back to the poor. Of course, his little scheme doesn't go unnoticed and pretty quickly he has a bunch of fearsome criminals on his back, who want Wei to return what he stole from them. Wei won't back down though.
With David Chiang and Lily Li in the lead you get some familiar faces, the build-up of the film is solid, the action is nice and well spread out, and the presentation has the usual Shaw Bros charm. It's not a film that is going to convince Shaw Bros detractors to change their view on the studio, but Chang fans are sure to have a blast.