Liao Zhai Ying Yang
2022 / 76m - China
Fantasy, Action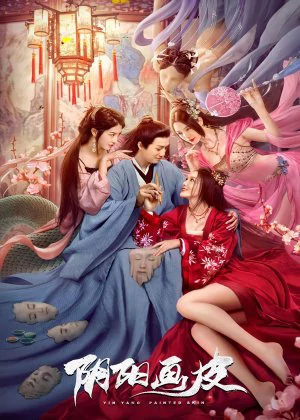 The umpteenth adaptation of the Painted Skin legend. We're dealing with another short straight-to-streamer film, so you should know what to expect. The thing that sets this one apart is that the CG is slightly above par, with even some successful attempts to be a bit more artistic and creative with digital technology. I didn't see that one coming.
The plot is pretty basic, especially if you've seen one or more of the other adaptations. Li Qing falls in love with Wang Sheng and leaves the demon world behind to win his love. Wang is extremely devoted to his wife, so Qing sees no other way than to swap places with her. It doesn't take long before Wang starts to suspect something is going on with his wife.
The plot is a bit too familiar by now, but these films are short, well-paced, and focus more on the delivery. The sets and costumes look cool, there's some solid action and the lead performances are decent. Some of the CG is still a little shoddy, but there are some cell-shaded in-painting scenes that looked surprisingly stylish. Better than I expected.