---
Liao Zhai Ying Yang
2022 / 76m - China
Fantasy, Action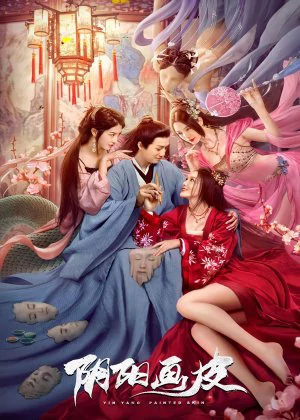 The umpteenth adaptation of the Painted Skin legend. We're dealing with another short straight-to-streamer film, so you should know what to expect. The thing that sets this one apart is that the CG is slightly above par, with even some successful attempts to be a bit more artistic and creative with digital technology. I didn't see that one coming.
Read all

The plot is pretty basic, especially if you've seen one or more of the other adaptations. Li Qing falls in love with Wang Sheng and leaves the demon world behind to win his love. Wang is extremely devoted to his wife, so Qing sees no other way than to swap places with her. It doesn't take long before Wang starts to suspect something is going on with his wife.

The plot is a bit too familiar by now, but these films are short, well-paced, and focus more on the delivery. The sets and costumes look cool, there's some solid action and the lead performances are decent. Some of the CG is still a little shoddy, but there are some cell-shaded in-painting scenes that looked surprisingly stylish. Better than I expected.
---
Jiang Mo Tian Shi
2022 / 78m - China
Fantasy, Action
Another iQiyi release. The Chinese streaming giant seems to have carved out its own niche of genre films. Short, cheap but highly amusing martial arts/fantasy productions that are produced by the dozens. These are no masterpieces, but people looking for fun genre filler are sure to find some worthwhile releases to pass the time.
Read all

When digging up a frozen elephant, a locust plague is unleashed. These locusts are especially dangerous as they set fire to the people they attack. It turns out this plague is just one part of a plan to overthrow the emperor. A demoness is trying to get her revenge, while three dedicated subordinates of the emperor are doing their best to unravel her deceit.

The cinematography is bright and colorful, the pacing lightning fast and the mix of fantasy and martial arts very amusing. The CG is ill-used though and the comedy doesn't really hit the mark either. These are common complaints with these films and considering the way they are produced, chances are slim they can be easily overcome. Still, there's plenty to enjoy here.