Oi Ching Ku See
2009 / 106m - Hong Kong
Romance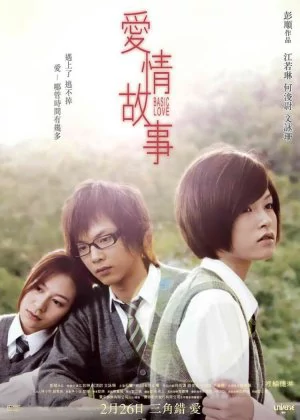 When Oxide Pang makes a new film, I'm there. I don't need a synopsis, trailer, poster or whatever to get me interested. When Basic Love was first announced I was a little surprised though, as it marks a pretty serious shift in territory for Oxide. No more horror, fantasy or other manly genre film making, but a full-blown drama in true Pang style.

If the name Oxide Pang (The Storm Warriors, The Detective, Som And Bank) doesn't ring a bell, it means you haven't been paying attention to my reviews here. Oxide Pang is without a doubt one of my favorite directors, though more because of his constant quality output rather than any true masterpieces amongst his body of work.
Even though Basic Love is a serious departure from familiar territory, from the very first shots it feels like a true Pang film. There's this thing in his visual style that's immediately recognizable and makes it something he can call his own. Apart from that Basic Love feels much like a Japanese drama, though a bit more polished and maybe not as subtle. Luckily there is plenty of good stuff here to compensate for that.
The titular 'basic' refers to the simple love triangle setup. Things get a bit more complicated when one of the main characters turns out to be deadly ill, disrupting the romantic affairs of the threesome and upsetting the lives of the three protagonists. What follows is an endearing story about loving and living in the moment, set to a tenderly handled coming of age background.

If there is one thing Oxide Pang never fails at, it's delivering some awe-inspiring visuals. Not always consistently throughout a whole film, but the man knows how to play around with cameras and color. Basic Love is no different. The usual Pang touches are here, though used in a more gentle, loving way. Nothing big or extreme, but all the same beautiful to behold.
The soundtrack is a little trickier, though Oxide manages to keep it within the confines of good taste. It seems he has learned from earlier films, and even though the music can be a tad too soft/piano-based for its own good, for the remainder of the film it actually works in creating the needed atmosphere. Acting is surprisingly good too. A couple of young talents that have no trouble working their way through the harder scenes in the film.

Basic Love is not a very big or difficult film. It's a modest tale about three kids, young love and fear of communication with a touch of drama running underneath it all. It's not as bare-bones or realistic as regular Japanese dramas, but it still fits right in with the rest of them. It's a little surprising seeing a film like this coming from Oxide, but he seems to pull it off without a problem.
A pretty low profile film that is sure not to reach the West any time soon, but fans of the Pang brothers should do well to seek it out anyway. Especially those of you that can't get enough of their trademark style. Just don't expect anything like their regular output. Basic Love is not an overpowering film, but slowly grows on you and ends up as most other Pang films: a solid, enjoyable and stylistically pleasant endeavour.