Mon Seung
2006 / 85m - Hong Kong
Mystery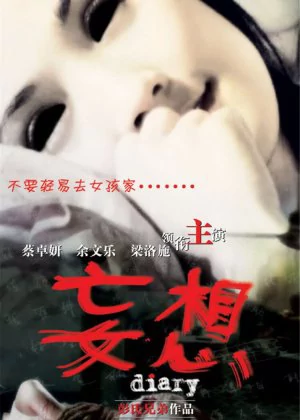 For all the reviews I've written for Oxide Pang's solo projects, I never got around to reviewing my own personal favorite. Time to rectify this situation and give some love to one of Oxide's lesser known films, but without a doubt his most complete and impressive work to date. Diary [Mon Seung] has all the usual Oxide magic and then some.

From the outside (trailers and poster art) Diary might look like a regular horror flick, but there's a little more going on below the surface. The film starts as a moody drama, switches over to horror and fantasy and ends as a rather successful mindfuck thriller. All these shifts feel natural and flow from the film's storyline, still it's probably best to be aware of this from the very beginning. The first part is rather slow and typical under-the-skin material, people expecting tension and horror antics right away might end up very disappointed early on.
The film starts with a somewhat depressed Wing-na. She's a little lovesick and sad that she can't seem to sustain a real relationship for a long period of time. When she runs into a boy that resembles her former boyfriend she decides to give it another chance, but despite her best intentions things don't work out as planned. At first Wing-na doesn't seem responsible for the issues they are facing, but something is definitely amiss, and slowly the truth will reveal itself.
Diary features its fair share of twists and turns. Some of them are pretty predictable, others really blew me away (like the in-film reboot of the story, which left me completely perplexed the first time I watched it). People watching Diary simply to find out how it all ends might be a little underwhelmed by the final twist, but if you prefer to enjoy the journey that leads you there this film has plenty to offer.

Oxide Pang has strong visual control over his films, which he once again demonstrates with this film. Some stunning filters, dark and moody lighting and strong camera work make Diary a beautiful film to look at. And even the CG, which can be a bit showy in most other Pang films, is subtle, functional and still manages to be jaw-dropping beautiful in some places. Add some very solid editing and a very consistent style throughout, and you get one of the most beautiful films the Pangs have ever directed.
I've always been quite critical about the musical scores in the Pang's oeuvre and even though I wasn't really convinced by the music in Diary the first time around I found little wrong with it now. Maybe it's a bit more dreamy than I'd anticipated the first time I watched it, but it actually flows quite well with the more fantastical bits of the story, giving the film a warmer and more mysterious overall feel.
As for the acting, Charlene Choi, not one of Hong Kong's best actresses, carries this film almost entirely by herself. Lucky for Oxide Pang she was able to pull it off and put in a very commendable performance. Isabella Leong and Shawn Yue complete the cast and their help is definitely appreciated, but I feel this is without a doubt the best performance of Choi I've seen so far and that alone is worth a special mention. The way she swings between timid, lonely girl and her other, dark side is impressive.

The first half of Diary is rather slow and atmospheric, focused mostly on the dramatic side of the story. Around halfway through the first really impressive scenes find their way into the film and after one-hour Diary shifts into full gear. From there on the film shows its true colors and turns into one of the most devious and entertaining thrillers I've ever seen.
Maybe this particular mix and shift of styles caused the film to remain somewhat underground, though by the time it was released the Pang's weren't as hot as they used to be, so that too might have contributed to its current status. Whatever the reason, Diary never found its way to its audience and remains terribly under-appreciated. It's a shame because it showcases the true skills of Oxide Pang, and it turned out to be his best film yet.
Diary is a skillful, beautiful and impressive little mindfuck thriller. With a very limited cast and one single location Oxide Pang still manages to go all-out and delivers his best film to date. Atmospheric from start to finish, surprising at times and captivation throughout. Hopefully this film will have its revenge 10 or 20 years from now as a true cult classic, but I'm not too optimistic. Definitely recommended.