Ah Fei Zing Zyun
1990 / 94m - Hong Kong
Romance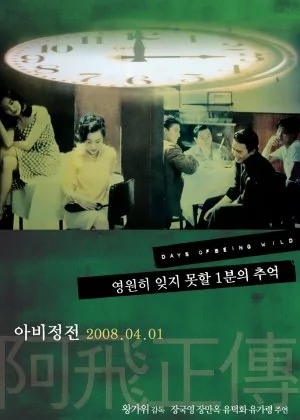 Hong Kong never had a very strong arthouse culture. While its films didn't have trouble finding their way to international audiences, it was Hong Kong's genre work that did the heavy lifting for them. Kar-Wai Wong is a notable exception, delivering stylized romance and drama films with casts that were far more used to doing action and comedy. Days of Being Wild [Ah Fei Zing Zyun] was Wong's second feature, but the first one that really showcased his enormous talent. I was a little hesitant to revisit the film, but that fear turned out to be completely unfounded.

It's difficult to underestimate Wong's accomplishments. Yes, his style of directing made it a lot easier to get noticed by prestigious film festivals across the globe, but getting those films made in Hong Kong couldn't have been very easy. It's not that the nation was devoid of arthouse cinema, they had their own little New Wave after all, but the skills and familiarity just weren't there to pull off the films Wong wanted to make. It's no surprise then he sought out someone like Christopher Doyle, who started his fruitful collaboration with Wong on Days of Being Wild, to fill this void.
This film is often seen as a direct precursor to In the Mood for Love and 2046, and it's easy to see why. There's the ending, of course, sporting Tony Leung's unnamed character, functioning as a bridge to Wong's most lauded films. But it's also just the overall mood of the films that ties them together. The delicate cinematography, the drenched back streets of Hong Kong, the narrative jumps, and short international interludes. Days of Being Wild is a clear sibling of In the Mood for Love and 2046, and it makes sense to group them together into an informal trilogy.
Yuddy is a player. He sees himself as a man who can't be tied down, and he moves from woman to woman as he sees fit. He has game and his mysterious aura makes him irresistible, but his relationships never last very long. He doesn't have a job and a trauma from his past weighs on him. Yuddy has roots in The Philippines, where he was given away by his biological mother. When he finally finds the funds to chase down his past, he doesn't hesitate and leaves Hong Kong behind. He'll soon discover that what he thought was the root of his problems, isn't exactly the solution to them.

The collaboration between Wong and Doyle started here, and it's pretty clear these two immediately found each other. The green-tinted cinematography is delicate and beautiful, the shots are meticulous, the lighting is moody and the color story is perfect. The film looks insanely good, especially for its age. Doyle would continue to improve and it's not Wong's best-looking film, but the cinematography is an essential part of the appeal here, and you can only wonder what would've happened with Wong if he hadn't hooked up with Doyle.
The soundtrack is exactly what you'd expect from a Kar-Wai Wong film. In a way, the music is pretty predictable and by the numbers, but it's never generic, nor does it fade into the background. It is tailored to the visuals and helps to set the mood, which is crucial for the type of film Wong loves to make. Scores in his later films would be a bit more adventurous and the music here isn't all that memorable, but sometimes it suffices to let the score be a part of the total experience. Most films and/or directors can't even manage that, so let's not complain too much.
The cast is quite spectacular, though back then many of them were still working hard to establish themselves. The three Cheungs (Maggie, Leslie, and Jackie) form a strong core, but to have people like Andy and Carina Lau (both in sizeable secondary parts) and Tony Leung (more of a cameo) fleshing out the rest of the cast is quite the luxury. It's not that Wong got lucky with the casting either, these actors have Wong to thank for some of their most prestigious roles, and I'm sure their careers wouldn't have been the same if Wong hadn't picked up on their talent.

You'd be forgiven for thinking this film is a typical romance, especially after the opening scenes. The relationship between Leslie and Maggie is only short-lived though and it quickly becomes clear the main focus lies with Leslie's character. Others float in and out of his life, and he doesn't exactly sit still himself. As a result, the plot's more than a little scattershot, but if you've seen the other films in the trilogy, that should be familiar territory. Wong draws strength from his characters and the exquisite styling, not so much the narrative, which I appreciate a lot.
Kar-Wai Wong singlehandedly kept the Hong Kong arthouse scene afloat for almost two decades, Days of Being Wild is the film that highlighted his talent for the first time. Together with Doyle, Wong created a touching portrait of a flailing soul. Thanks to the moody soundtrack, sumptuous cinematography, and strong performances, this turned out to be a film for the ages. Days of Being Wild is a true Hong Kong classic, a film that oozes style and is an easy recommendation for people who don't mind looking beyond the mainstream. If you haven't already seen it, do so as quickly as possible.