Yi Dai Zong Shi
2013 / 130m - Hong Kong
Fantasy, Drama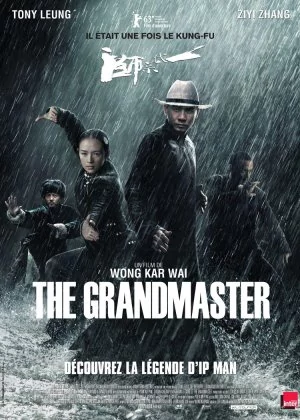 It took him six long years, but Wong Kar Wai is finally back with another film. Now, six years is a long time, but it's clear from the very first seconds that Kar Wai didn't just take an extended vacation before starting work on his new film. Every one of those 2191 days shows in the final product, making The Grandmaster [Yi Dai Zong Shi] one of Kar Wai's most prestigious and jaw dropping projects to date.

The Grandmaster is the latest in a series of films about Ip Man (Bruce Lee's famous teacher). The problem is that it is marketed as a film that fits right in with Wilson Yip's two Ip Man films (Ip Man, Ip Man 2) as well as with Herman Yau's slightly less prestigious films. The Grandmaster is very much a Wong Kar Wai film though and goes its own way. On top of that, the film isn't exclusively about Ip Man, as Kar Wai reserves plenty of screen time for Gong Er and Razor, two other famous martial arts celebrities. Further evidence of Kar Wai's broader vision can be found in its original working title: The Grandmasters rather than The Grandmaster. Sadly many people still go in expecting an action flick centered around Ip Man and end up disappointed. Their loss.
Kar Wai's latest is the ultimate ode to martial arts. While most martial arts films only focus on the action part, there's an entire philosophy that goes with the moves. Other films may have touched upon these philosophies sparingly, Wong Kar Wai dives in head deep. Life is explained through martial arts moves, while the fights are intertwined with life lessons. A strong and beautiful mix that goes beyond the simple slap and dash antics (how cool and exciting they may be) usually found in the genre.
The film follows three famous martial arts teachers. Ip Man, Gong Er and Razor. There's a lot of ground to cover, sadly a little too much for a 130-minute film. There is a rumored 4-hour version, but with Kar Wai you never know whether and if this version is going to surface. It's obvious that a lot is cut from the 130-minute version though, especially Razor's part is reduced to an absolute minimum. The relationship between Ip Man and Gong Er gets a little more screen time, though most of the film is spent following their individual quests. The Grandmaster is one of the very first films where I'm actually praying for a longer cut, even though the 130-minute version covers the essentials and shouldn't be that hard to follow, even for those not familiar with Ip Man's background.

The Grandmaster needs to be experienced. I wasn't able to catch it on the big screen (a big up yours to Belgian distributors), but this is by far one of the most dazzlingly beautiful films I've ever seen. Kar Wai obliterates the work of Zhang Yimou (Hero) and Xiaogang Feng (The Banquet) and delivers the most elegant martial arts film ever put on celluloid. Kar Wai cuts the action scenes to perfection, detailing all the little moves and tactics within the fight without losing perspective of the fight as a whole. The slow motion is perfect, the coloring and lighting otherworldly and the settings and props rich and detailed. You'd need at least an extra pair of eyes to capture all the visual detail in one single sitting.
The soundtrack is not as in your face, but finds the right mood and surfaces from time to time to make a small but welcome impression. The subtle sound effects are more impressive, bringing extra elegance to close-ups and slow motion scenes. The slight strokes of feet slightly changing position or the air that whizzes when limbs fly by. These little moments capture the atmosphere of the fights perfectly.
Wong Kar Wai's reputation assures him a stellar cast, which is clear from the main line-up. Tony Leung Chiu Wai takes on the role of Ip Man, Ziyi Zhang transforms into Gong Er and Chen Chang becomes Razor. Tony Leung and Chen Chang are two or China's most prestigious actors, while Ziyi Zhang is arguably China's best-known actress. I'm not always a fan of Zhang's work, but she puts on quite a show here, easily managing herself between the two men. Not a simple feat. The secondary cast is more than solid, with a nice cameo of Woo-ping Yuen (who also doubles as a stunt coordinator) and a welcome appearance of Siu-Lung Leung.

Despite the stellar production value and Wong Kar Wai's dedication, The Grandmaster remains a difficult film to sell. Hardcore martial arts fan will be disappointed by the lack of action and the emphasis on drama and elegance, while the arthouse crowd will find little joy in the mix of martial arts and philosophy. For those who like a bit of both though, The Grandmaster is by far the ultimate martial arts film out there, bar none. Never have I seen a film that comes so close to materializing the idea behind the philosophy and the moves, baring every little detail with such elegance that I wouldn't have noticed if Kar Wai had hidden another 130 minutes of material in there.
The Grandmaster is well on its way to become my favorite Wong Kar Wai film. I do hope he'll release a long cut later on, but as the film stands there is plenty of wonder, tension and intrigue that kept me occupied whenever I found time to pry my eyes and ears away from the drop dead gorgeous presentation. Approach this with the right mindset and it quickly becomes clear that Kar Wai delivered a benchmark film that few will ever come close to. A definite must-see (and must own), though any recommendation should come with a serious warning.