Dai Sing Siu Si
2004 / 94m - China
Romance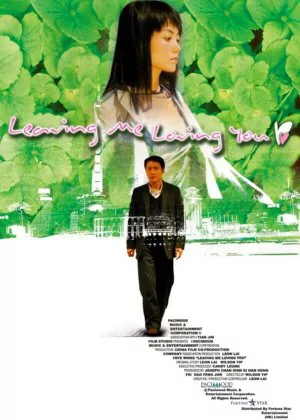 Like most Asian directors, it took Wilson Yip a good few years to land his first real success in the West. Sure, Bio Zombie found itself a cult following and action fans might know Yip from SPL and Dragon Tiger Gate, but it was Ip Man that found Yip a broader Western audience for the first time. If you recognize any of the titles above, Leaving Me, Loving You [Dai Sing Siu Si] might come as quite a surprise.
Leaving Me, Loving You is not Yip's first stab at making a romantic drama. He made Juliet In Love a few years earlier and was surprisingly successful in making it an engaging experience. Still, Leaving Me is a very different beast altogether. Where Juliet In Love was quite raw and featured two characters within the social outcast class, this film digs its claws into the world of wealthy yuppies, hitting a selection of hard-headed characters with stone cold façades.
The film starts with the breakup between Qian and Xiao, two people too occupied with their careers to take care of each other. The breakup is icy, without too much words or drama, but not without pain. They part ways and plan to go on with their lives. The both of them don't seem too affected and throw themselves at their jobs, until a few days later fate brings them back together on the same project. Xiao is planning a big birthday party for a client, Qian is hired to watch over the old man's health.

While Qian starts to realize he didn't really want the breakup, Xiao doesn't want anything to do with Qian anymore. A pretty basic setup, but Yip has a difficult time making it work. Qian and Xiao are pretty ungrateful characters to have in your romantic movie. They aren't all that romantic, both are focused on their careers and they both have a pretty effective wall around their inner personalities. The yuppie world isn't well fit for sprawling romances, so Yip has to resort to different means to make the romance work.
For that, he includes Shanghai and turns it into a modern paradise of steel, glass and wealth. Shanghai is featured like a dream city, always clean, sunny and colorful, bathing in luxury. The film features quite a few fancy sets and locations bringing a woolly feeling both actors try to warm themselves to. Visually, Leaving Me, Loving You is very nice to look at, featuring warm and happy colors, delicate framing and soft camera work. The soundtrack too is made to add a more romantic feeling to the film but goes a little overboard from time to time, crossing the line to cheesy more than once. Luckily, this is mostly in the beginning of the film.

While there might be a negative ring to all the above, I actually liked the film a lot. It was quite refreshing to see such characters in a romantic film. Indeed, it's not easy feeling for them or identifying with their issues. They seem quite cold-hearted and indifferent, but at the same time they are still just human. Both actors play their parts extremely well, though the city is an equally important actor in this film and provides a safe haven for the both of them.
Yip had to go a long way to make the romance work, and from time to time he fell into the trap of overcompensation, but in the he made it work alright. Wonderful cinematography, lush sets and two strong actors make this film. You have to wade through a few mushy parts, mostly in the beginning, after that it's all good. Though people expecting lovable main characters might want to skip this film.