Yip Man 3
2015 / 105m - Hong Kong
Fantasy, Drama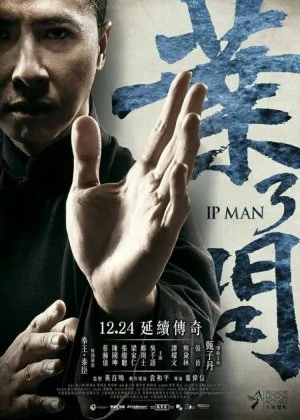 It's been five years since the first two Yip Man releases, now Wilson Yip returns with the final instalment in this prestigious trilogy. Yip reassembled the crew from the first two films and set out to make a worthy ending to Yip Man's 3-part tribute. The core question was whether audiences would still be willing to warm up one last time to Man's universe. Fear not though, Wilson Yip made a compelling third film, which feels both familiar and different enough in order to avoid hurting the good standing of the first two films.
Wilson Yip's decision to wait a couple of years was a smart one. It wasn't just his two films documenting the life of Man, there was also Herman Yau's Yip Man Chinchyun (often sold as the prequel, though it has nothing to do with Wilson Yip's films) and of course Kar-wai Wong's Yi Dai Zong Shi. Trying to wedge his third and final part within that same window would've simply been Yip Man overkill. When I sat down for Yip Man 3, I actually felt excited to get back to Man's world one more time.
Don't be fooled by the trailers (if you choose to watch any), Yip Man 3 isn't as action-packed as the people behind the film would want you to believe. This may be disappointing to those who were expecting a fully fledged action film, but Yip makes good use of the extra elbow room. He takes the time to explore Man's public image as well as his relationship with his wife, which pays off marvellously in the end. It's not like the film is void of action though, there's just more to it than beautifully choreographed action sequences.
The film finds Man at the end of the '50s, considerably aged and having plenty of time to spend together with his wife. That is, until a gang of local bandits (run by a wealthy American business man) starts harassing a nearby school. The parents call on Man to protect the school, but it's an unfair battle. Even so, Man and his disciples don't plan on giving up that easily. At the height of the conflict, Man's wife confronts him with her sudden illness. Man is forced to choose between protecting the school and supporting his wife, a choice that challenges his responsibilities as a husband and a martial arts grandmaster.

Visually Yip doesn't deviate much from the two previous films, meaning everything looks extremely accomplished. The time period and setting are brought to life with minutious precision, the camera work is strong and decisive and the lighting is nothing short of stunning. But it's the action cinematography that stands out the most. Woo-ping Yuen's choreography is photographed with such purity and clarity that I can't quite think of any other film that got this close to capturing the spirit of the fights on display. Pure martial arts bliss.
The score is quite traditional but never lets the film down. I was actually surprised to find Kenji Kawai was behind the music, as it's not quite as defining as his work for other films and shows (Mamoru's Oshii's work first and foremost), but that doesn't mean it's any less effective. Kawai alternates between epic and emotional pieces and does so without the music ever becoming sentimental or cheesy. It's a strong and solid score, well above what films like these usually deliver.
Yip Man 3 has no shortage of worthwhile performances either. Mike Tyson is probably the most eye-catching name and while he's not the greatest actor his showdown with Man is one for the history books. Lynn Hung and Patrick Tam have strong secondary parts and Kwok-Kwan Chan's cameo as Bruce Lee is commendable, but in the end this really is Donnie Yen's show. In the same way Jet Li is tied to Wong Fei Hung, Donnie Yen has latched himself onto Man. It's by far one of the best performances of his career, coining Man as a warm, gentle and humane martial artist.

Yip Man 3 ended up being a perfect blend of Yip's first two films and Kar-wai Wong's interpretation of Man's life. A film with enough classic fight scenes and typical martial arts banter to please to fans, but also a film that offers a broader, more richer look at the life of one of the biggest martial arts grandmasters in recent history. It's not just about kicking ass and taking revenge (illustrated by the timing of the big Yen/Tyson fights, which didn't end up being the finale), it's also about how to combine the title of grandmaster and the worries of everyday life.
Wilson Yip did well to wait a couple of years before making this third instalment. Yip Man 3 is a worthy successor, in every way possible. It builds on the two previous films, but adds something of its own. Production values are still stellar, the acting is on point and the fight sequences are nothing less than spectacular. It's the perfect ending to one of the better martial arts series out there. If you loved the earlier Yip Man films, chances are you'll end up loving this one too. Just don't expect too much action and you're set for a good time.