Samaria
2004 / 95m - South Korea
Drama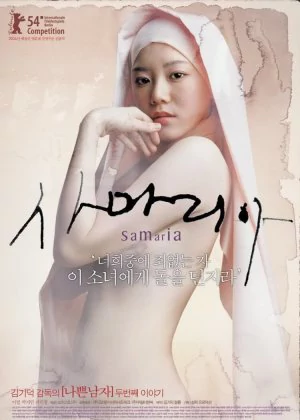 The early 00s were a very prosperous period for South-Korean director Kim Ki-duk. Just about every film he made was assured an international release and the renewed interest in Asian cinema was doing wonders for his reputation. Samaritan Girl [Samaria] fell right in the middle of Ki-duk's heydays, even so the release of 3-Iron eclipsed this slightly more subdued entry in Ki-duk's oeuvre. I do remember liking Samaritan Girl a lot, but it's been years since I last watched it and so it was time to revisit one of Ki-duk's classics. There are worse things to do on a stormy Sunday.

Ki-duk suffered from a relatively short but considerable meltdown in 2009, an event that split his oeuvre in two rather distinct parts. His post-breakdown work is noticeably darker and angrier, whereas his earlier work strives for a more even balance between grit and drama. Samaritan Girl is a film that falls well within that first period, and as such the film focuses mostly on the drama, topping it off with some edgier themes and motives. It's a matter of preference really, personally I like both stretches of Ki-duk's oeuvre, but if you've been put off by the crudeness of Ki-duk's later films, it might still be worth to try some of his earlier work.
The central theme of Samaritan Girl is a little hard to pin down. It starts off as a drama about two young girls who've resorted to "paid companionship" in order to earn a quick buck (much like Hideaki Anno's Love & Pop), but throughout the film the focus shifts to the deteriorating relationship between one of the girls and her father. At times, it feels like there are big and important points to be made, but the film never really lingers on that. Samaritan Girl is a true character drama, where the leads are placed front and center and the themes and events they are subjected to are only there to shape the characters.
The story revolves around two best friends, Jae-Young and Yeo-Jin. Jae-Young is the one who (willingly) entertains the clients, while Yeo-Jin takes care of the business side of things, arranging the meetings and guarding the premises, looking out for cops. They are trying to save up for a trip to Europe, a lifelong dream they share. Business goes very well, until one day when Yeo-Jin is temporarily distracted and cops burst into Jae-Young's hotel room. Jae-Young isn't planning to get caught, and she jumps out of the window, seriously injuring herself in the process. To make matter worse, Yeo-Jin's father spots them when they are making a run for it.

While Samaritan Girl is far from Ki-duk's most visually accomplished film, it's definitely not a terrible-looking film either. Colors are a bit too vague and dim and the film could definitely do with a nice BluRay upgrade, but the editing is solid and the camera work is well above average. The compositions of the shots also stand out. Again, it's not all that in your face and compared to Ki-duk's more high-profile releases this doesn't feel nearly as polished or noteworthy, but the visuals aren't merely functional, and they do leave an overall positive impression.
The soundtrack on the other hand deserves more praise than the visuals. It's not really a very daring or unique choice of music, but the tone and vibe reminded me a little of Hisaishi's work (a big compliment for Ji-woong Park and Park Ji there). The music itself feels rather simple, at the same time it also feels very pure and refined. Every note is right and in combination with the onscreen drama it makes for a very moving and compelling soundtrack. It's the kind of score that can conjure up images from the film when listening back to it, I don't think you can ask for a more telling sign that the music is on point.
The acting too is pretty exceptional, which is always an important bonus for a drama film. Yeo-reum Han and Ji-min Kwak are a superb central duo. There is plenty of chemistry between both actresses, even though their time on screen together is actually quite limited. Eol Lee, who plays Kwak's father, aptly completes the trio, but he has to wait for his best scenes until the very end of the film. The secondary cast doesn't have too much work here, but luckily there are no weak links there either, and so the entire cast deserves a thumbs up.

Samaritan Girl is a film that runs through several stages. That makes it a little tough to settle in, because the film is constantly dragging you in different directions. If you were hoping for a more focused plot it may leave you a little disappointed, but if you're able to get past those narrative constraints and simply latch on to the characters, it becomes a very rewarding film with an amazing ending to boot. Not a finale that neatly wraps up everything, but it still leaves you with the impression that all the important things have been said and that the film has reached its logical conclusion.
If you're not familiar with the work of Ki-duk, there are probably other films in his oeuvre that should be given priority. But if you like Ki-duk and you haven't seen this film yet, it's a very easy recommend. Samaritan Girl is the perfect combination of sweet and sour. A beautiful drama with some raw edges that thrives on a sublime score and killer central performances. Add a very strong ending and some memorable scenes and you have another Ki-duk classic that probably deserves a little more attention than it has been getting so far.