Spring, Summer, Autumn, Winter... and Spring
Bom Yeoreum Gaeul Gyeoul Geurigo Bom
2003 / 103m - South Korea
Drama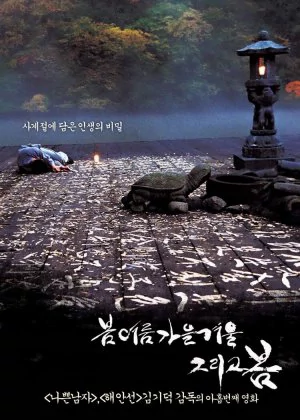 Ki-duk Kim will forever be the black sheep of South-Korean cinema, a troubled genius who loved to push the boundaries of good taste. It's hard to deny his talent though, and when someone like Kim suddenly drops the rougher edges from his work, critical acclaim is never far off. Spring, Summer, Autumn, Winter... and Spring [Bom Yeoreum Gaeul Gyeoul Geurigo Bom] was that film for Kim. A slow, almost meditative feature that was a shoo-in for cinephiles around the world. It's not my favorite film of his, but I did like it a lot the first time I watched it. That was a long time ago, in other words: time to give it another spin.

Kim is best known for his particular mix of soft and hard. The music, cinematography and pacing side with more traditional, balanced arthouse films, the drama and taste for human cruelty on the other hand feel closer to something out of an exploitation film. To many, that contrast formed the core appeal of his films, though it did turn him into a more niche director. A film like The Isle garnered international praise, but it was hardly a roaring commercial success. When Kim did decide to tone down some of his rougher edges, he was finally ready to become one of the bigger arthouse directors of his time.
Though many of Kim's films run rampant with Christian symbolism, Spring, Summer, Autumn, Winter... and Spring took more obvious pointers from Buddhism. It's a religion that generally gels well with the arthouse aesthetic, as there's a penchant for minimalism, mindfulness and spirituality that seems to overlap. While the religious overtones and influences are abundantly obvious, you don't have to be a religious person to enjoy this Kim film though. It works just as well as a more solemn and considerate exploration of the human condition and its cyclic patterns.
A young boy lives with a Buddhist priest in a temple that floats on a remote mountain lake. The priest takes care of the boy and teaches him about nature and life. When the boy is in his teens, a young girl joins them in the temple, brought there by her mom to help her battle her mental demons. The two are off to a rough start, but since all they have is each other, it doesn't take long before they begin to explore the feelings they have. By mapping the titular seasons to the periods in the boy's life, the structure of the film shouldn't be that hard to predict.

Spring, Summer, Autumn, Winter... and Spring may be one of Kim's better-looking films, in part because of the majestic setting. The little mountain lake is absolutely stunning, the floating temple on top just makes it that more entrancing and mysterious. The cinematography is solid too. Clean and stark framing with a fine eye for geometry, calm and dreamy camera work, good use of the natural lighting and seasonal colors give the film a pleasant visual appeal. It's not an absolute stunner, but the visuals play an important part in the film's ethereal tone.
The soundtrack may not sport the most unexpected or original compositions, certainly not for this type of film, but the execution is pretty exceptional. The music is relatively sparse, when it does surface Kim goes for comfortable piano and string productions. There are moments when composer Ji Bark matches the better efforts of Joe Hisaishi, giving Spring, Summer, Autumn, Winter... and Spring that extra dash of soothing, gentle class that is required for a more quiet and introspective film. Kim often aces his soundtracks, this film is no exception.
The cast is solid, but not that noteworthy. There's very little dialogue and a lot depends on the body language of the actors. They have little trouble communicating their emotions and the relationships that develop between the characters are obvious enough. One interesting detail is that Kim himself is part of the cast. This time he's not just watching from the shadows either, but taking on one whole season in the life of the lead character. It's always a bit special to see a director take on a sizeable role in one of his films and Kim's troubled legacy is sure to cast a different light on his role here, but his performance is among the better ones.

The cyclic nature of life is a pretty common theme for more contemplative films, the title also gives a pretty good idea of the structural setup here. Kim probably doesn't add much that you haven't seen, read or heard anywhere else, but he executes it very stylishly and at its most basic, the film a solid reminder of humanity's shortcomings and the need for leniency rather than immediate condemnation. It's the peculiar setting that gives Spring, Summer, Autumn, Winter... and Spring its unique identity and helped to retain my interest, keeping the film from becoming a little too familiar.
Spring, Summer, Autumn, Winter... and Spring isn't particularly groundbreaking or innovating, it's a comfortable arthouse film that relies on execution to win its audience over. The pleasant cinematography and extraordinary setting, the lovely score and the relatable themes make this one of Kim's most accessible films, perfect if you need an entry into his oeuvre. It may not prepare you for Kim's more challenging work, and it might just a little too safe and by the numbers for more seasoned fans, but it's an essential Ki-duk Kim film that doesn't disappoint in the slightest, even after multiple viewings.