Smagen af Sult
2021 / 104m - Denmark
Romance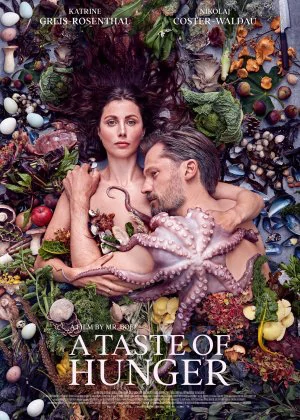 Christoffer Boe used to be one of my all-time favorite directors, but after two amazing films his career started to wane, and I simply lost track of him. When one of his more recent films surfaced on Netflix, I figured it was time to get myself reacquainted, but I was disappointed to find a run-of-the-mill Scandinavian police thriller. Not willing to give up that easily, I sought out A Taste of Hunger [Smagen af Sult], Boe's most recent film. I'm glad I did, it might not be quite up there with his best work, but it's clear proof that Boe hasn't lost his special mojo just yet.

Boe is one of those directors who excel at creating atmosphere out of thin air. It's the actual premise of his first film, and it seems that he hasn't lost his touch, even though he removed some of the more fantastical elements from his work. It's not something I would immediately applaud, as it helped to set his films apart, but if A Taste of Hunger proves anything, it's that he doesn't need them to make an intriguing film. He can make do with a very basic and simple romance, and turn that into something bigger and more profound in a matter of seconds.
Now that Boe is doing more straightforward romance, it dawned on me that his style isn't too far removed from directors like Drake Doremus or Sam Esmail. His camera is one that evokes atmosphere, circling characters while highlighting little gestures and/or movements, but always within the clear context of their environment. It's a pretty dreamy and evanescent style, perfectly suited for romance, certainly when it gets a bit more tragic. While I would've preferred a little more detachment from the plot, it's still very easy to lose yourself in the atmosphere.
A Taste of Hunger follows the story of a young, ambitious cook (Carsten) and a woman with strong entrepreneur skills (Maggi) who wants to help him realize his dream: getting a Michelin star. The two get into a relationship and have two kids, manage to buy a restaurant and build up their reputation. When news reaches them that a lone diner is doing the rounds in the city, they aren't present in the restaurant and when they finally arrive, the client has already left. Something went wrong with his serving and to make matters worse, a letter stating Maggi is cheating on Carsten is faxed to their restaurant.

One of the primary reasons I'm attracted to Boe's films is his strong focus on the visuals. A Taste of Hunger is no exception. The use of color is spectacular, the camerawork is nuanced and captures the emotions perfectly and the editing is precise. The food porn may feel a bit obligatory and the fantastical elements in his earlier films did allow for more memorable imagery, but that's just extreme nitpicking from my side. This film looks extremely polished and fans of Doremus (or the neon look in general) will find plenty to love here.
Boe also makes sure that the soundtrack plays a vital role in establishing and guiding the mood of the scenes. He has a tendency to go a bit more classical than I prefer, but the music really is minutely tailored to the film and has a strong enough signature to stand proudly beside the cinematography. I think a slightly more electronic-bases score (while keeping with the ethereal soundscapes) would've elevated the film even more, but again, this is a bit of nitpicking that the film doesn't really deserve. It's only because I know Boe has it in him that I care to mention this.
A film like this needs strong performances from its leads, and both Katrine Greis-Rosenthal and Nikolaj Coster-Waldau make sure they don't let Boe down. They are definitely helped by the meticulous styling, but there's plenty of onscreen chemistry between the two, and it's easy enough to see them as an actual romantic couple. The secondary parts are very solid too, with Boe favorite Nicolas Bro making a notable appearance. It's a strong cast with no weak links and two standout leads, so right on point for A Taste of Hunger.

The only true issue I had with this film is that there is a tad too much focus on the plot. The restaurant setup is a nice enough premise and the somewhat unusual setting grants Boe some nice diversions, but it's really nothing more than a cover to explore the relationship between Carsten and Maggi, which forms the true core of the film. I wouldn't have minded if Boe had put the story a bit more in the background, especially during the second half of the film. There are moments where it interrupts the pacing and the meticulously sculpted atmosphere, which is a shame. It's another minor complaint, but it's what's keeping this film from an even higher rating for me.
While not quite up there with his very best, that bar is so high that even somewhat lesser films are still veritable masterpieces. It was great to submerge myself again in Boe's romantic woes, he is still one of the most skilled directors in that regard. The lush cinematography and outstanding soundtrack set the stage for a bristling, touching relationship drama, the superb performances seal the deal. It's comforting to see Boe hasn't lost his touch just yet, hopefully, he'll be able to continue on this path and deliver some more excellent films in the near future. I'll be there for them.