2011 / 83m - Denmark
Drama, Horror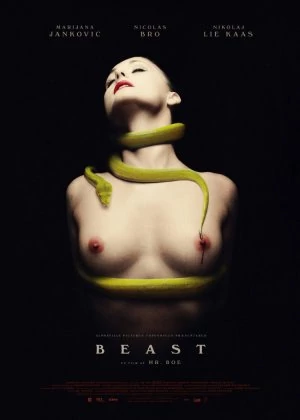 With two of his films in my all-time top 100, I guess it's no secret that I'm a pretty big Christoffer Boe fan. Sadly getting a hold of his later films has been a real challenge so far, but with iTunes slowly turning into a solid film platform things might be looking up once again. I was lucky enough to catch Beast, his latest film and it seems that Boe hasn't lost much of his magical touch through the years.

If you think of Reconstruction as Boe's shot at mystery and Allegro as his shot at science fiction, Beast is definitely Boe's take on the horror genre. I wouldn't really call it a true horror film though, as at the very core of Beast still lies a pretty classical drama, but the genre-influences are unmistakably there. There's blood, gore, and a selection of menacing ambient tracks to intensify the atmosphere, only they are used to underline the dramatic elements of the film rather than exploit the fear present in the audience.
Beast is really a relationship drama, highlighting the highs and lows of a couple's marriage. At the very beginning of the film Bruno and Maxine meet up, starting off their relationship in high spirits. Since Boe cut out most of the smooth sailings of marriage, the film hops around a lot during the first fifteen minutes or so, focusing mostly on the fights and mishaps that drive Bruno and Maxine apart. Pretty soon Maxine feels that her marriage is leaving her unsatisfied while Bruno is at a loss on how to fix the situation.
As an ultimate test, Bruno sets up a meeting in a hotel room between Maxine and Valdemar, a common friend of theirs. Bruno's fears become reality when the two hook up and a vile evil starts to develop inside of him. The more Bruno tries to oppress his feelings, the harder it becomes to control the madness growing inside his body. Maxine too is affected by the changes in Bruno and the two head towards a very rough period in their relationship.

I read somewhere that Beast is a low-budget film, but you'd never think it when looking at the film's exterior. Visually it's up to par with Boe's high standard, showcasing several extremely stylish technical shots (like the stilted snow scenes) and strong, close-up camera work. It's equally obvious that a lot of attention went into the lighting of the scenes, featuring neat coloring tricks and beautiful lens flares. Overall Beast is a visual feast that stands high above the competition.
As always in Boe's films the soundtrack is as much part of the styling as the visuals. The music brings a lot of extra depth and emotion to the images and it dares to be bold. The film features several scenes where Boe creates tension between the more soothing classical pieces and some darker, grittier ambient drones, underlining the emotional battle of the characters. It's always great to see a director who fully understands the impact a soundtrack can have on a film and with Beast, Boe reaffirms that status.
Boe adepts will of course recognize Nicolas Bro in the lead role. Bro has appeared in every Boe film so far and has grown into an overpowering presence. Whatever Boe lays in front of Bro, he accepts the challenge full-heartedly and submits himself to his character without any form of compromise. He is the ultimate trump card of Beast as he gives the film a true heart. Marijana Jankovic sometimes has trouble keeping up with Bro but she too gives her all in what is a pretty difficult and daring role. The secondary cast is solid too, Nikolaj Lie Kaas being the obvious stand-out as Valdemar.

Beast may carry many of the traits of a typical horror film, but it never really delivers as a horror. Instead, the horror elements are used to reinforce the character's emotions. It's not really a critique as this creates a very interesting tension in the film, but it's something that horror fans might want to know so they can adjust their expectations before watching this. Beast is about marriage and the individual struggles of the people who entered this sacred bond, not about monsters and gruesome killings.
Beast is a very worthy addition to the oeuvre of Boe. As a whole, the film may not be up to par with Reconstruction or Allegro, but that's probably because these two films rank incredibly high on my list of favorites. What you get is a powerful drama, enriched with strong horror elements, perfectly visualized, scored to perfection, and fleshed out by a selection of first-class actors. It's another highlight of European cinema that deserves to be cherished, so try to get your hands on the film and give it a go.