---
by
Yoshitaka Amano
,
Kon Ichikawa
,
Akio Jissoji
,
Masaaki Kawahara
,
Suzuki Matsuo
,
Miwa Nishikawa
,
Atsushi Shimizu
,
Takashi Shimizu
,
Keisuke Toyoshima
,
Yudai Yamaguchi
,
Nobuhiro Yamashita
Yume Ju-Ya
2006 / 100m - Japan
Mystery, Horror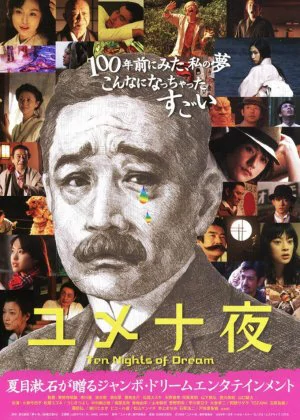 A wonderful collection of shorts, visually pleasing, fun to watch and from time to time refreshingly weird.
---
Dora-heita
2000 / 111m - Japan
Crime, Comedy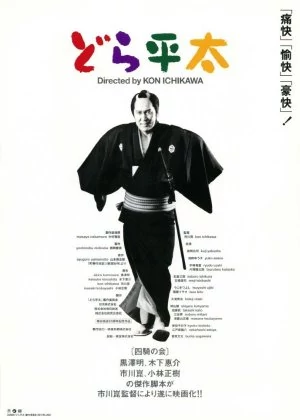 A surprisingly amusing samurai romp. I honestly didn't expect too much from this film, then again I should've known better than to write off an aging Japanese director. It's one of Kon Ichikawa's final films, and while not really a highlight of contemporary film making, Alley Cat still feels remarkably fresh.
Read all

The film's biggest selling point is Kôji Yakusho, who is visibly having fun with his character. It's also a pretty thankful role, as he can smash protocol and still come out on top. It gives the film a certain lightness that I didn't see coming, not in the least because the rest of the film is a pretty classic samurai affair.

The film reminded me quite a bit of Mitani's The Kiyosu Conference, not in the least because the setting and Yakusho's part show great resemblance. Mitani handles the material slightly better, with an overall more pleasant presentation, but Ichikawa's film has plenty to offer too. This was a nice find.
---
Biruma no Tategoto
1956 / 116m - Japan
War, Drama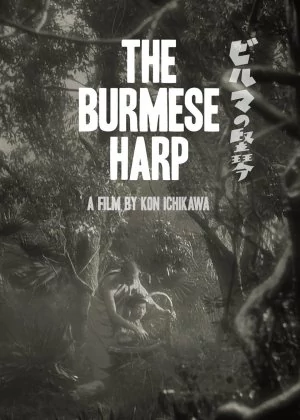 Kon Ichikawa is one of the famed classic Japanese directors I haven't really explored yet. I've seen two of his post-2000 films, other than his oeuvre was still a blank for me. The Burmese Harp is one of his most popular films, so that seemed like a pretty good place to start. And indeed it was.
Read all

The story revolves around Mizushima, a soldier stationed in Burma near the end of WWII. He is sent up the mountain to convince a regiment to surrender itself. He fails his mission and the entire regiment is killed, Mizushima is the only survivor. A Buddhist monk finds him and decides to take care of him.

There's an ease to Ichikawa's films that is quite timeless. The pacing is deliberate, the soundtrack is soothing, the characters aren't too rowdy. The setting is also a big plus and adds plenty to the atmosphere. Could've been a tad shorter and the ending was a bit too overstated, other than that a worthy classic.