---
2021 / 93m - USA
Comedy, Mystery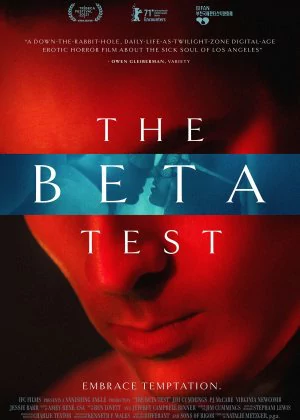 Jim Cummings is a pretty unique guy, a reputation that becomes more pronounced with each film he directs. Not everything he does is outstanding, but it sure stands out and whenever I see his name pop up, it's an assurance that something out of the ordinary is waiting for me. The Beta Test isn't his best work, but it sure is something.
Read all

Jordan is a slick Hollywood agent who is about to get married. One day, he receives a mysterious envelope is his mailbox. It's an anonymous invitation to spend an erotic night in a hotel room. Jordan is intrigued and accepts the deal, though he isn't quite prepared for the effect this night is going to have on his life.

Cummings is an acquired taste and the character he portrays here is an ultimate douchebag, but somehow he gets away with it. Not that he's charming, but he inspires a level of pity he doesn't really deserve. The film is a bit odd, a bit mysterious, a little funny in places. It's an easy watch that kept me intrigued from start to finish, but it does lack a finer finish. Interesting, it's just that the potential is there to do better.