---
by
Lazar Bodroza
,
B.J. Colangelo
,
John Cook Lynch
,
Steve De Roover
,
Ruggero Deodato
,
Sonia Escolano
,
Isaac Ezban
,
Florian Frerichs
,
Rémi Fréchette
,
Sadrac González-Perellón
,
Trent Haaga
,
Juergen Kling
,
Ama Lea
,
Sang-woo Lee
,
Andreas Marschall
,
Annika Marx
,
Pollyanna McIntosh
,
Lucky McKee
,
Bob Pipe
,
Julian Richards
,
Jason Rostovsky
,
Alyosha Saari
,
Dominic Saxl
,
R. Zachary Shildwachter
,
Milan Todorovic
,
Michael Varrati
,
Vivienne Vaughn
,
Sam Wineman
2019 / 145m - Germany
Horror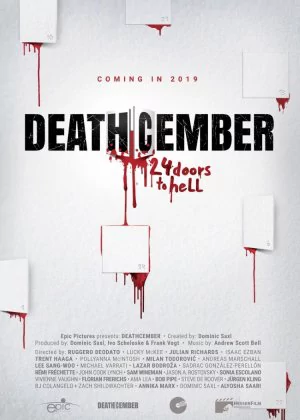 Extensive seasonal horror anthology presented as an advent calendar. It's like the ABC's of Death, only with Christmas-themed shorts. It's a great way to start any movie run-up to Christmas, at least if you're into horror cinema (and all its genre relatives), as it's a lot less jolly than the usual Christmas fare.
Read all

24 shorts, about 5 minutes each, is quite a lot for an anthology, especially when you also count the two bonus shorts hidden away in the credits. It makes for a good 2.5 hours of cinema where every 5 minutes your mind needs a little reset. While I appreciate the high level of diversity, I think it would've been better if this had been 30 minutes shorter.

Otherwise, there's very little to complain about. There's always going to be shorts that stick out while others fade away in the background, but the broad international selection, the varied mix of styles, genres and topics (while all holiday-related of course) and the many inspired ideas really keep Deathcember interesting and entertaining. I hope they turn this into a yearly tradition.
---
2017 / 93m - USA
Comedy, Crime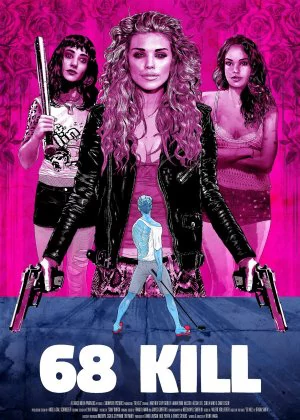 A brave attempt to make an edgy dark comedy, even though the film isn't quite as zany as it tries to be. Haaga struggles with the structure of the film and tries to hold back for too long, possibly because the finale isn't quite as over-the-top as it should've been. That said, there's quite a bit to like here.
Read all

Chip is a well-meaning guy who keeps falling for the wrong women. Liza, his somewhat deranged girlfriend, has him on a short leash and convinces Chip they need to rob one of Liza's clients to finally get ahead in life. Chip reluctantly agrees, but finds himself way in over his head when Liza kills the couple in cold blood.

The presentation is pretty decent, the actors are well in on the joke and the introduction/finale deliver. The problem is the middle part, where Haaga fails to build up to a crescendo. The entire segment with Violet probably should've been cut (though through no fault of Boe, who plays her part well). Still, decent, fun and entertaining filler, just not as mad as it pretends to be.