Dong Fung Po
2010 / 126m - Hong Kong
Drama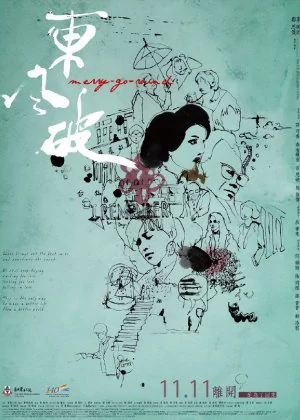 Directors Yan Yan Mak (Hu Die) and Clement Sze-Kit Cheng (Gallants) team up for a film that dares to gives some extra shine to the Hong-Kong arthouse scene. Joining others like High Noon and Ex (both by Heiward Mak), this film once again strengthens my beliefs that Hong Kong is capable of a lot more than it dares to (mass)produce. Now if only films like Merry-Go-Round would get the proper international exposure, more of them would find the light of day.

Like it or not, but the Hong Kong movie scene is mostly treasured in the West for its abundance in genre film making. Sprawling martial arts epics, gritty police thrillers and some classy Triad action are all fan favorites and are easy to sell to the West. When it comes to arthouse/drama cinema though, there is a small but very noticeable emptiness. Other Asian countries like Japan, Taiwan and China have interesting drama releases queuing up year after year, digging up some decent Hong Kong drama/arthouse titles often requires a lot more effort.
Finding Yan Yan Mak behind a film like this was no real surprise, those of you who have seen Hu Die will definitely recognize his style. But seeing Clement Sze-Kit Cheng appearing on the director's list is something else. Gallants was a quirky and fun rehash of the martial arts comedies of yonder, none of those elements found their way into this film. Still, the duo obviously complemented each other pretty well and the result is both beautiful and captivating.
The film follows the lives of two women who meet each other for the first time in California. They both move back to Hong Kong a little while later, and without them knowing their lives appear to be closer connected than they could ever have imagined. This connection is formed by two men who link everything together and complete the rather complex setup. Merry-Go-Round is more of a show, don't tell kind of film, so piecing everything together does require you to keep focused throughout the entire running time.

When the film was finished I went to check for cinematography credits on IMDb right away. With All About Love and Love In A Puff Jason Kwan had some impressive credits to his resume already, but with this film he completely baffled me. Merry-Go-Round looks truly exquisite, each scene is beautifully shot and orchestrated to the tiniest detail. The lighting is quite simply sublime and the framing nothing less than perfect. I hope Kwam continues on this path as he clearly has much more to show to the world.
It's a shame the soundtrack wasn't really up to par. Merry-Go-Round features a nice (although very typical - think soft piano music) Asian drama score, but mixed with some lesser quality indie songs, all of them featuring English vocals. I assume it should underline the link with the California plotline, but the effect is less than stellar. Sometimes English-language tracks work in Asian films (think Ghibli's The Borrowers), but here they conflict with the unmistakable Asian arthouse vibe coming from the rest of the film. The result isn't bad per se, but it's obvious the soundtrack doesn't really fulfill its full potential.
Luckily the acting is as solid as ever. Teddy Robin Kwan remains an interesting and very recognizable actor, Miao puts in a stylish performance too. As for the youngsters, it's Koon that shines the brightest and also carries most of the dramatic weight of Merry-Go-Round. Chou is probably the weakest link, but only in comparison with the others. The four of them do a great job of acting out the many nuances between the different characters in the film and succeed in bringing their respective character to life.

Merry-Go-Round is a film that drifts by gently, but also manages to linger afterwards. There isn't a clear plot or dramatic hook you can look forward to, so people with an angsty plot fixation should take notice. We're just following a set of four characters whose lives are slowly intertwining, going through their everyday rituals trying to deal with the problems they encounter. There's no big pay-off at the end, just a small twist that puts some things in perspective, but doesn't bring any mind-shattering revelations. This is definitely not a bad thing, but not everyone will appreciate this.
Above all, Merry-Go-Round is an ultra-stylish drama with its heart in the right place. It's suited for people who don't necessarily need impressive plot lines or great emotional scenes to enjoy a drama film. To see such a film coming from Hong Kong is quite unique, but those of you who are familiar with modern Taiwanese dramas will probably see the similarities right away.
If only the soundtrack would've been a bit better, this film could have turned out to be a small masterpiece. For now, it's a warm, gentle and beautifully shot drama with a set of interesting characters that will guide you through the 120 minutes running time with deceptive ease. Hopefully many more Hong Kong films will follow in its footsteps, though looking at the poor international interest displayed for Merry-Go-Round I wouldn't bet on it.