Chi Ming Yu Chun Giu
2010 / 104m - Hong Kong
Drama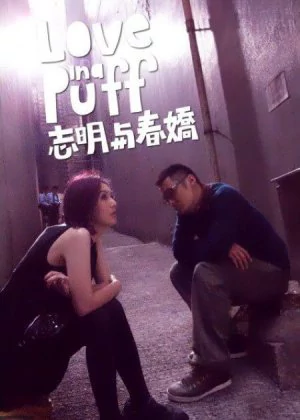 Ho-Cheung Pang, the man that introduced me to another side of HK cinema. Not hindered by the limitations of genre cinema or the pretensions of arthouse, his films are quirky and lovable author pieces. Love In A Puff [Chi Ming Yu Chun Giu] is no exception to the rule. A fun, little romantic comedy set in the hidden back alleys where smokers gather to share a cigarette, possibly even more. Even for non-smokers there is plenty to enjoy.

Love In A Puff feels like a continuation of Pang's previous film, Trivial Matters. A semi-realistic snippet of modern day society. Still very stylized and cinematic, but not as staged or acted as his previous work (Isabella or Exodus). Those not too taken with this new style need not fear, Pang will return with the crafty-looking horror flick Dream Home later this year.
In 2007 Hong Kong followed many other countries by prohibiting smoking on the work floor. This led to the birth of the smoke date, a new social phenomenon where people sneak out together for a quick puff. Short 5-minute breaks that replace the coffee machine talks and are ideal for some good gossiping away from prying eyes and ears. Such is the setting of Pang's latest film.
It's essentially the story of Jimmy and Cherie. The two meet during one of the smoke breaks and start a somewhat unusual affair. Jimmy has just dumped his former girlfriend, Cherie is stuck in a five year old relationship void of any passion. They get along pretty well but interaction is mostly limited to short SMS texts and fleeting conversations during smoke breaks. Then things get serious and the usual male knee-jerking ensues.

Love In A puff feels a little hazy and light-footed, something which is strongly reflected in and enhanced by its visual style. A very mobile camera staying close to the actors and energetic editing add a lot to this feeling. That doesn't mean there is nothing to look at though. Pang has a keen eye for details. Be it finding abstraction in settings or simply catching the smoke in the sunlight, there are always some lush details to marvel at.
A bit more peculiar is the soundtrack which really shakes up the film's atmosphere. It's hard to compare the effect to any other film out there, but I guess Johnnie To's Sparrow comes pretty close. Quite cool and absolutely defining for the overall feel of the film, it seems To's choice for atypical scores is catching on in Hong Kong.
The acting is pretty solid. Yeung turns into a rather nice performance as Cherie, but it's Shawn Yue that sets another step in becoming one of the brightest HK talents out there at the moment. He's been turning up into a lot of good films these last ten years and never fails to add something to his character. He more than confirms his status once again in this film.

While fellow Twitch writer and Hong Kong resident James Marsh confirms the realistic setting of Love In A Puff, the atmosphere in the film reminded me a lot more of European cinema. No doubt due to the peculiar score and talkative nature, I believe that simply changing the actors would be more than enough to turn this into a prime example of French cinema. And maybe that's not even all too surprising, considering Pang's references to Melville's Le Samourai in You Shoot, I Shoot.
Love In A Puff doesn't really feel like a full-blown masterpiece but there is definitely more than meets the eye. On the surface a simple romantic comedy, the film itself is grounded in a more realistic setting and allows a good look into the lives of contemporary HK citizens. It doesn't shy away from modern social phenomena like the smoke breaks or even Facebook, allowing Pang to keep his odd one out status very much alive.
For a quick diversion, Love In A Puff is a pretty accomplished film carrying a very enjoyable atmosphere, working both on a comedic and dramatic level, sporting good performances of the whole cast and delivering some astounding visual touches. The perfect way to spend some time reconnecting with Ho-Cheung Pang until Dream Home arrives. Recommended stuff.