Chun Jiao Jiu Zhi Ming
2017 / 121m - China
Romance, Comedy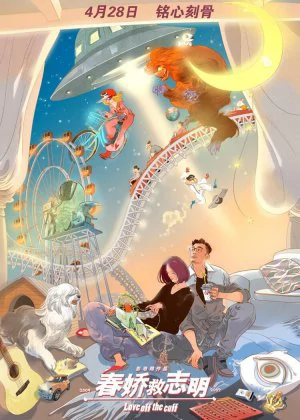 After a little time-out, director Ho-cheung Pang finally resumes his journey with Love Off the Cuff [Chun Jiao Jiu Zhi Ming], the third entry in his esteemed Love series. The first two films were rather atypical Hong Kong romances that successfully combined drama, comedy and romance while aiming for a more natural and slighty raunchier approach. Like most Hong Kong projects these days Pang's latest has Chinese funds backing the film, so it wasn't entirely clear whether Pang would be able to retain the series' unique flavor. Worry not though, he succeeded in keeping the spirit of the first two films alive.

While different in atmosphere and execution, Pang's Love films remind me of Richard Linklater's Before series quite a lot. The setup is pretty similar, with a central couple being followed throughout different stages in their lives. Pang's timeline may be a bit more concise and the tone in Pang's Love films might be a little cheekier, but each installment in the series is meant to handle a different phase in their relationship. An approach that allows Pang to make sequels that aren't exact copies of the previous films, as the evolution of the story and characters is exactly what drives each new film.
The first film saw Cherie and Jimmy meet up for the very first time, the second one handled their separation where they each went their own way. If you haven't seen Puff and Buff already it's probably best to watch them before starting on Cuff, though Cuff really isn't that hard to enjoy when not having watched the earlier installments. You'll miss some background story and references of course, but Love Off the Cuff is by and large a stand-alone entry that doesn't rely on past events to make its point.
The film catches up with Cherie and Jimmy enjoying their time together. There are the usual hiccups and quibbles every relationship faces, but things are genuinely looking up for the two. That is, until Cherie's father reenters her life. He's planning to remarry a much younger woman and when Cherie starts comparing Jimmy to her dad, doubt starts creeping back into their relationship. Cherie questions Jimmy's ability to care for her and give her the emotional comfort she craves, while Jimmy is battling himself to leave his more carefree life behind.

When watching a Ho-cheung Pang film, there's always the expectation of some visual showmanship. Even while working in the romantic/drama genre (not exactly known for its visual appeal), Pang makes sure to put a lot of work into the visual presentation of his films. Love Off the Cuff is no exception. Lighting and framing are both exquisite and the city of Hong Kong gets a very prominent role as the background in which this romantic drama unfolds. The icing on the cake are several memorable shots that linger long after the credits have faded from view.
The soundtrack on the other hand isn't memorable at all, to the point where I had to skip through the film again just for reviewing purposes. It makes little to no impression and while that means it's not exactly irritating either, it does highlight Hong Kong's lingering problem with undervaluing the strength of a good score. While there are exceptions (like Johnnie To's and Wong Kar Wai's films), they are few and far between. And even though a romantic drama may not benefit the most from a strong soundtrack, it's still a glaring omission in the overall presentation.
Luckily the acting is up to par. Miriam Yeung and Shawn Yue are a fine screen couple and are clearly feeling comfortable playing their characters. Their evolution throughout the films feels natural and even though they have a glossier side to them, the level of realism is high enough for the drama to make an actual impression. The secondary cast is decent too though mostly absent, with the exception of Paul Chun who puts in a good performance as Yeung's estranged father.

While drama and romance are the clear focus of Love Off the Cuff, there's still enough goofiness left to set it apart from purer genre efforts. In between the perils of Jimmy and Cherie, Pang finds time to do a short horror introduction and a fun alien/ufo intermezzo. And while the Chinese injection of capital is slightly noticeable for those in the know, there's still enough crude dialogue and comedy left to keep it in line with the two earlier films. Love Off the Cuff is still very much vintage Pang.
If you're unfamiliar with Pang's Love series, do yourself a favor and watch the other films first before starting on Love Off the Cuff. Once you're up to speed, Cuff is a very easy recommend. The film is up to par with the earlier films while still being different and distinctive enough to avoid turning into a cheap, cash-obsessed sequel. For someone who missed Pang's output in the past couple of years, it's a fine reunion with a director who hasn't lost his touch and still stands as one of the top Hong Kong directors of this generation.