Cheut Ai Kup Gei
2007 / 94m - Hong Kong
Drama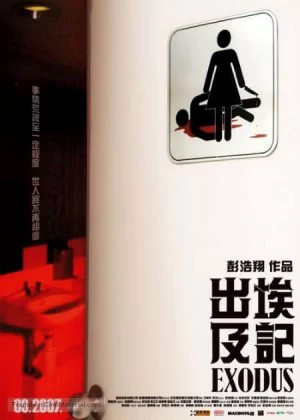 The movie industry in Hong Kong has been centred around genre films fitting a specific mold for years. Action flicks, comedies and martial arts spectacles are what HK cinema is all about. Finding interesting work outside of these genre clichés is not an easy job, so when I came across Ho-Cheung Pang a couple of years ago, I was hooked. Exodus [Cheut Ai Kup Gei] is his sixth film and one that is without a doubt a valuable and interesting addition to his body of work.

Ho-Cheung Pang is known for decorating his comedies with a darker edge. Something that is an absolute rarity in Hong Kong cinema, setting it aside from hundreds of fluffy HK comedies. But Pang is more than a comedy director. His films are littered with references to classic directors and classic films. And he has a very keen eye for colors and angles. While his earlier efforts were fun to watch, it's only with Isabella that he took a swing at a true masterpiece. With Exodus, Pang proves it was more than a lucky shot, by blending the atmosphere and skills seen in Isabella with the wit and humor of his earlier films.
Exodus is pretty weird, but the key to the film is already hidden in the first scene. While slowly panning back from an Elisabeth II painting, we see a couple of frogmen beating up a criminal in a police station hallway, set to a soothing classical score. One of the most effective opening scenes I've ever seen, blending the themes and capturing the atmosphere of the entire film.

Exodus is a slow, understated film, both in narration, humor, acting and visualization. The camera is pretty static or slowly pans across scenes. The film is pretty lush as Pang paid a lot of attention to the use of color and the framing, but people expecting to see an exciting HK police drama are probably at the wrong address. Complementing the stylish visuals is a subdued soundtrack composed of classical piano pieces, slowing down the pace even more.
The film stars Simon Yam, old veteran and classy actor in a role that suits him well. He lays down a great understated role, showing little emotion and taking things as they come along. Still, at the end of the film I wondered if a guy like Anthony Wong wouldn't have made it just that little bit better. Still, Yam's performance works wonders and doesn't miss it's effect.

But the thing that makes Exodus stand out is the combination of the subdued atmosphere and its nutcase storyline. Exodus is completely nonsensical, sending Yam after a case where women conspire in toilet rooms to kill men. The apparent seriousness with which the theme is handled just begs for laughs, a feeling that is only enhanced in it's final 10 minutes. It's easy to miss the humor, or simply be put off by the whole setup, but I found it quite refreshing and simply lots of fun.
Ho-Cheung Pang is a director I'll keep following closely as he's able to keep his work refreshing. Exodus is a hard film to recommend as you should like the arthouse aesthetics and you're required to pick up on the humor, if not this film is probably a serious drag. But if you do, it will be a worthwhile experience, guaranteed.