---
2021 / 86m - South Africa
Horror
I never watched the original, but after seeing Esterhazy's Level 16 I was ready to give this film a fair shot. It turned out a lot better than I'd expected. Yes, it's another one of those horror films switching around gender roles, but it is so self-aware (and funny) that it actually worked in the film's favor.
Read all

A group of girls gets together for a weekend away from home. They drive to a remote lake cabin, where one of the girls' mothers was almost murdered by a vicious serial killer. Their plan is to get their revenge on the killer, but when they run into a bunch of boys staying on the other side of the lake, their mission becomes a lot more complicated.

Yes, it's all about the girl power, but the kills are solid, the film isn't above making fun of its gender reversals (that shower scene) and there are a couple of fun (though predictable) twists that keep things interesting. It's a basic slasher, but with a couple of amusing touches that make it rise above its peers. This is how to do a remake.
2018 / 102m - Canada
Mystery, Thriller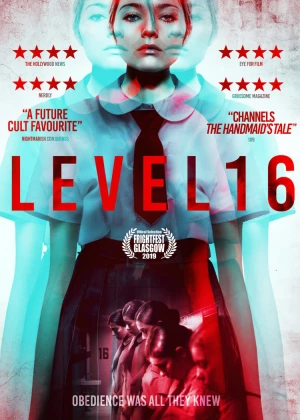 A nifty little genre film. The premise is rather basic and the mystery is stretched to its limit, but the stylish presentation and intriguing setup kept me glued to the screen. The payoff could've been better, and a slightly shorter runtime might've helped, but Esterhazy delivers quite the calling card.
Read all

Vivien is part of a program that wants to create proper, obedient girls. They are trained vigorously, and when they meet expectations they advance to a higher level, after which they'll be placed in new homes. Vivien has nearly finished her training, but then Sophia warns her that the intentions of their guardians aren't quite as idyllic.

The performances are nice, the retro sci-fi look fits the film well, the presentation is clean, and the mystery is kept alive until the very end. It might've been smarter to go with an open ending and the pacing could've been a tad slicker, but if you're looking for a stylish and well-executed genre film, give this one a go.