---
Rok Spokojnego Slonca
1984 / 106m - Poland
Romance, War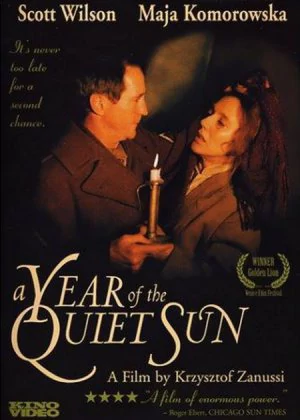 A rather stale and dry romantic drama that fails to conjure up the necessary emotion. The film feels a bit drab, performances are mediocre, the soundtrack has no impact and the drama is incredibly predictable. What remains is basic quality film making, that fails on every other level. A pretty disappointing film.
Za Sciana
1971 / 56m - Poland
Drama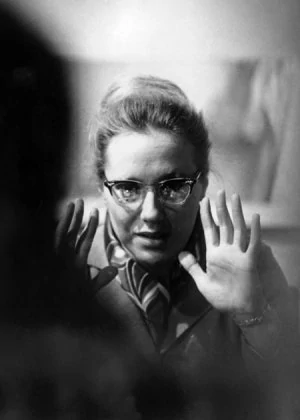 One of Zanussi's earliest films, made for TV. It's a very (very) basic affair, so it's a good thing it's pretty short. Even then, it feels the film is stretched well beyond its breaking point. The black and white cinematography doesn't really work either, adding pretenses the film can't make good on.
Read all

Jan is a young, ambitious assistant professor, who only cares about his work. Anna is a writer who has taken an interest in Jan, but he doesn't really have eyes for her. Anna isn't willing to give up that easily, and she forces a situation where they can spend more time together.

The setup could've been endearing, but the bland characters and grim cinematography don't really do much for the film. The endless dialogues aren't very exciting either. It's all just very plain and lifeless. It might be interesting for those who appreciate Eastern-European dramas and/or Zanussi completists.
---
by
Hala Abdallah
,
John Akomfrah
,
Catherine Breillat
,
Júlio Bressane
,
Rama Burshtein
,
Antonio Capuano
,
Peter Ho-Sun Chan
,
Isabel Coixet
,
Amiel Courtin-Wilson
,
Claire Denis
,
Lav Diaz
,
Amit Dutta
,
Atom Egoyan
,
Aleksey Fedorchenko
,
Frédéric Fonteyne
,
James Franco
,
Lluís Galter
,
Haile Gerima
,
Aleksey German
,
Amos Gitai
,
Sang-soo Hong
,
Benoît Jacquot
,
Zhangke Jia
,
Semih Kaplanoglu
,
Abbas Kiarostami
,
Yorgos Lanthimos
,
Pablo Larraín
,
Tobias Lindholm
,
Guido Lombardi
,
Jazmín López
,
Samuel Maoz
,
Pietro Marcello
,
Brillante Mendoza
,
Celina Murga
,
Amir Naderi
,
Shirin Neshat
,
Nicolás Pereda
,
Franco Piavoli
,
Giuseppe Piccioni
,
Edgar Reitz
,
João Pedro Rodrigues
,
Walter Salles
,
Paul Schrader
,
Ulrich Seidl
,
Luca Severi
,
Sion Sono
,
Jean-Marie Straub
,
Tusi Tamasese
,
Tariq Teguia
,
Pablo Trapero
,
Athina Rachel Tsangari
,
Teresa Villaverde
,
Bing Wang
,
Apichatpong Weerasethakul
,
Andrew Wonder
,
Yonfan
,
Krzysztof Zanussi
,
Karim Aïnouz
,
Bernardo Bertolucci
,
Jan Cvitkovic
,
Davide Ferrario
,
Monte Hellman
,
Marlen Khutsiev
,
Milcho Manchevski
,
Franco Maresco
,
Salvatore Mereu
,
Ermanno Olmi
,
Michele Placido
,
Todd Solondz
,
Shekhar Kapur
,
Heeraz Marfatia
,
Ki-duk Kim
,
Shinya Tsukamoto
2013 / 120m - USA
Documentary - Anthology