---
Leones
2012 / 82m - Argentina
Drama, Mystery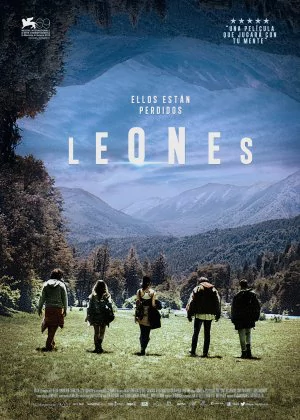 A very nice and intriguing little mood piece. It's pretty interesting to see an established horror cliché adapted as a more arthouse-leaning film, I suspect genre fans will have less trouble deciphering the mystery here. That said, the film is more about atmosphere and the emotional state of the protagonists than it is about figuring out the plot.
Read all

Five kids are away for the weekend. They've organized a little trip through nature in search of a remote house. They seem to be going in circles, and a recording on their phone appears to suggest they've undertaken this trip before. With no way to contact the outside world, they have no choice but to continue on.

The camera work is very floaty and dreamy, whereas the music is mostly moody soundscapes. Performances are solid, the characters are likeable, and the pacing is appropriately slow. The only thing missing for me was an even stronger focus on the styling, which could've elevated the film even more. But this was a really pleasant discovery from Argentina.
---
by
Hala Abdallah
,
John Akomfrah
,
Catherine Breillat
,
Júlio Bressane
,
Rama Burshtein
,
Antonio Capuano
,
Peter Ho-Sun Chan
,
Isabel Coixet
,
Amiel Courtin-Wilson
,
Claire Denis
,
Lav Diaz
,
Amit Dutta
,
Atom Egoyan
,
Aleksey Fedorchenko
,
Frédéric Fonteyne
,
James Franco
,
Lluís Galter
,
Haile Gerima
,
Aleksey German
,
Amos Gitai
,
Sang-soo Hong
,
Benoît Jacquot
,
Zhangke Jia
,
Semih Kaplanoglu
,
Abbas Kiarostami
,
Yorgos Lanthimos
,
Pablo Larraín
,
Tobias Lindholm
,
Guido Lombardi
,
Jazmín López
,
Samuel Maoz
,
Pietro Marcello
,
Brillante Mendoza
,
Celina Murga
,
Amir Naderi
,
Shirin Neshat
,
Nicolás Pereda
,
Franco Piavoli
,
Giuseppe Piccioni
,
Edgar Reitz
,
João Pedro Rodrigues
,
Walter Salles
,
Paul Schrader
,
Ulrich Seidl
,
Luca Severi
,
Sion Sono
,
Jean-Marie Straub
,
Tusi Tamasese
,
Tariq Teguia
,
Pablo Trapero
,
Athina Rachel Tsangari
,
Teresa Villaverde
,
Bing Wang
,
Apichatpong Weerasethakul
,
Andrew Wonder
,
Yonfan
,
Krzysztof Zanussi
,
Karim Aïnouz
,
Bernardo Bertolucci
,
Jan Cvitkovic
,
Davide Ferrario
,
Monte Hellman
,
Marlen Khutsiev
,
Milcho Manchevski
,
Franco Maresco
,
Salvatore Mereu
,
Ermanno Olmi
,
Michele Placido
,
Todd Solondz
,
Shekhar Kapur
,
Heeraz Marfatia
,
Ki-duk Kim
,
Shinya Tsukamoto
2013 / 120m - USA
Documentary - Anthology