---
Eoddeon Bangmun
2009 / 108m - South Korea
Drama - Anthology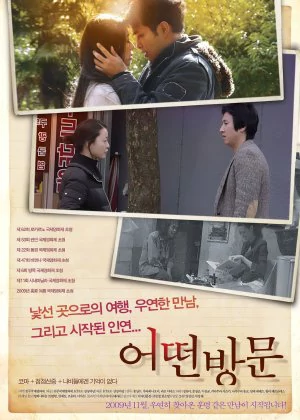 I quite like anthology projects, as they offer an opportunity to directors to try something different, do something unexpected, to surprise. But then there are films like this, where each director just turns in a shorter version of what they regularly produce, only shot on a smaller budget.
Read all

In Kawase's short, Kang Jun-Il returns a sacred scroll to its ancestral home. In Hong's short we follow Mi-Sook as she drives off on a whim to visit an old classmate of hers. When she arrives, she finds out her friend is having an affair with a college professor. And in Diaz' short Carol returns home to the poor miner village where she grew up, only to become the target of a kidnapping ploy.

None of the short are anything special. They're pretty much what you'd expect from the directors, only less developed and visibly made with less money. Kawase's short is the nicest of the bunch, while Diaz' was the weakest for me. A waste of potential though, these tree established directors should've done a lot more with this chance.
---
by
Hala Abdallah
,
John Akomfrah
,
Catherine Breillat
,
Júlio Bressane
,
Rama Burshtein
,
Antonio Capuano
,
Peter Ho-Sun Chan
,
Isabel Coixet
,
Amiel Courtin-Wilson
,
Claire Denis
,
Lav Diaz
,
Amit Dutta
,
Atom Egoyan
,
Aleksey Fedorchenko
,
Frédéric Fonteyne
,
James Franco
,
Lluís Galter
,
Haile Gerima
,
Aleksey German
,
Amos Gitai
,
Sang-soo Hong
,
Benoît Jacquot
,
Zhangke Jia
,
Semih Kaplanoglu
,
Abbas Kiarostami
,
Yorgos Lanthimos
,
Pablo Larraín
,
Tobias Lindholm
,
Guido Lombardi
,
Jazmín López
,
Samuel Maoz
,
Pietro Marcello
,
Brillante Mendoza
,
Celina Murga
,
Amir Naderi
,
Shirin Neshat
,
Nicolás Pereda
,
Franco Piavoli
,
Giuseppe Piccioni
,
Edgar Reitz
,
João Pedro Rodrigues
,
Walter Salles
,
Paul Schrader
,
Ulrich Seidl
,
Luca Severi
,
Sion Sono
,
Jean-Marie Straub
,
Tusi Tamasese
,
Tariq Teguia
,
Pablo Trapero
,
Athina Rachel Tsangari
,
Teresa Villaverde
,
Bing Wang
,
Apichatpong Weerasethakul
,
Andrew Wonder
,
Yonfan
,
Krzysztof Zanussi
,
Karim Aïnouz
,
Bernardo Bertolucci
,
Jan Cvitkovic
,
Davide Ferrario
,
Monte Hellman
,
Marlen Khutsiev
,
Milcho Manchevski
,
Franco Maresco
,
Salvatore Mereu
,
Ermanno Olmi
,
Michele Placido
,
Todd Solondz
,
Shekhar Kapur
,
Heeraz Marfatia
,
Ki-duk Kim
,
Shinya Tsukamoto
2013 / 120m - USA
Documentary - Anthology